Formal and Grad Dates confirmed
Lake Tuggeranong College is proud to announce arrangements celebrating the achievements of our graduating class of 2019 i.e. our Year 12 Graduation and our Year 12 Formal. A major change has been made regarding the timing of these events for this year. Historically, both events have been held on the same day: this year, they will be spread over two dates, a week apart. (More details on this was sent in a letter to parents and carers).
FORMAL:
Thursday 12th December 2019
National Convention Centre, Canberra City
5:30 – 6:30 for arrivals
Concludes at 11pm.

GRADUATION:
Thursday 19th December 2019
Royal Theatre, National Convention Centre, Canberra City
10am start
Concludes 12 noon
These events are an opportunity for us all to celebrate the achievements of our students and to mark the end of an era (their school years). We sincerely hope you can join us in the celebrations.
---
LTC student wins major prize in 2019 Basil Sellers Art Prize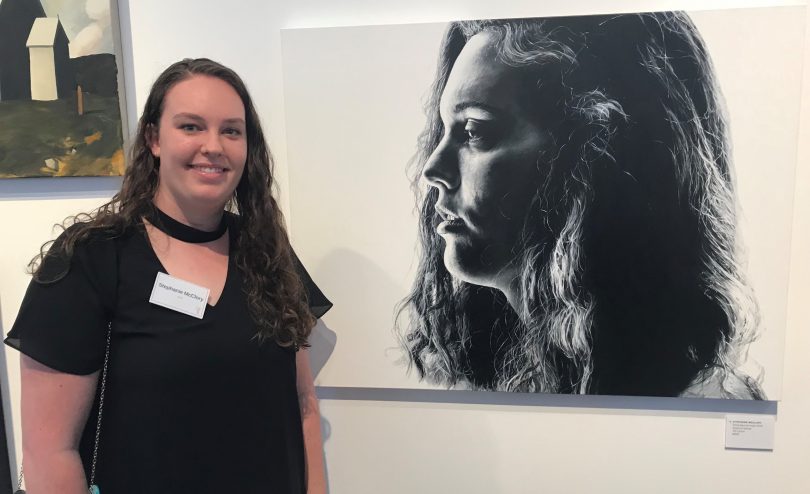 LTC Alumni and Moruya artist Stephanie McClory won the $5,000 Eurobodalla Prize with her acrylic on canvas piece, 'Some days are Rough.' McClory said "This portrait captures a raw and vulnerable moment in time. There are some days that are more difficult to get through than others. This emotional piece will mean something different to each individual. Our own life challenges and experiences, and those that impact on the lives of the people we care about, will influence the way the artwork is viewed and interpreted. Some days are rough was painted in honour of someone who is very dear to me."
Eurobodalla Shire Council sponsored the prize and will acquire it for its collection. Huge congrats go out to Steph for this amazing achievement.
---
LTC Student Media prize and work screened at Enlighten
Ananya Giridhar, Year 11 Media, for her short film "One small step behind" which received the under 18's prize for Lights, Camera, Action. Ananya's film titled one small step celebrated the 50th Anniversary of the Moon Landing, the televisation of which was relayed from the Honeysuckle Creek Tracking Station and is implicit in her film. The film now lives on Vimeo but was first screened at Enlighten. Well done Ananya!